Plex is cloud based application used to enhance your movie backup collection, wink-wink, to allow you to access your media in a Netflix-esque application of which is available on a wide range of media devices.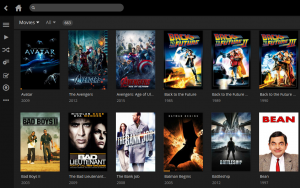 Plex is maturing more and more as different types of devices are allowing Plex to be incorporated into their media devices such as Xbox 360, Xbox One, Fire TV, Apple TV, Chrome-cast, Smart TV's, and many more devices to come.
Installing and configuring Plex into your home collection is very easy to accomplish. The Plex Website is a great source of documentation as well as many YouTube videos explaining how to configure this up.
In conclusion, this is something that will enhance any home theater!