This is an excellent tool that I seem to have stumbled upon, Never10 is a lightweight software patch that keeps your computer from upgrading itself or forcing you to upgrade to Windows 10.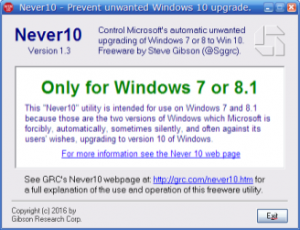 The software is really quick and painless and will definitely keep you from getting a headache on a good day! Microsoft has done some pretty dirty things which in-turn have non-Microsoft Staff create software to keep Microsoft from making us to things we don't want to do!
Steve Gibson, if you are reading this great move sir! This is a wonderful tool you have master-minded!